Let's catch up with the spring collections! Today I want to show you Kinetics spring 2018 collection Nude Different. It consists of 8 shades, and I see them as nude tones for every occasion and state of the soul – sometimes we want to be princesses with soft pink colour on the nails but there are days when we have to rock our own life and then dark tones are all we need. Am I right?!
Scroll down to see the swatches:
Šodien piedāvāju Jums ielūkoties jaunākajā Kinetics pavasara kolekcijā Nude Different. Tā sastāv no 8 toņiem, kas šķiet ideāli piemēroti sievietes mainīgajai dabai – dažreiz vēlamies ko sievišķīgi maigu un rozā, bet ir dienas, kad tumšie toņi ir viss, kas nepieciešams, lai pašpārliecināti paceltu galvu augstāk un tiktu ar visiem dzīves izaicinājumiem galā. Domāju, ka es tāda neesmu vienīgā, un tas ir stāsts par mums visām, vai ne?!
Zemāk lasiet par katru no toņiem sīkāk:
Inner Peace – almost white with a drop of nude. Great colour for a clean and elegant look, 3 layers in the picture.
Inner Peace – gandrīz balts ar viegli bēšīgu nokrāsu. Tīrs un elegants tonis, bildē klāts 3 kārtās.
Skin To Skin – soft, warm pink. Kinetics describes the tone precisely: "The perfect cross between white, nude and pastel pink." Will look flattering with every skin tone. My favourite for sure! Love it!
Skin To Skin – gaišs silti rozā. Kinetics to apraksta, kā perfekto baltā, bēšīgā un pasteļu rozā savienojumu, kam nevar nepiekrist. Tonis, kas piestāvēs jebkurai ādas krāsai. Viennozīmīgi mans kolekcijas favorīts! Dievinu!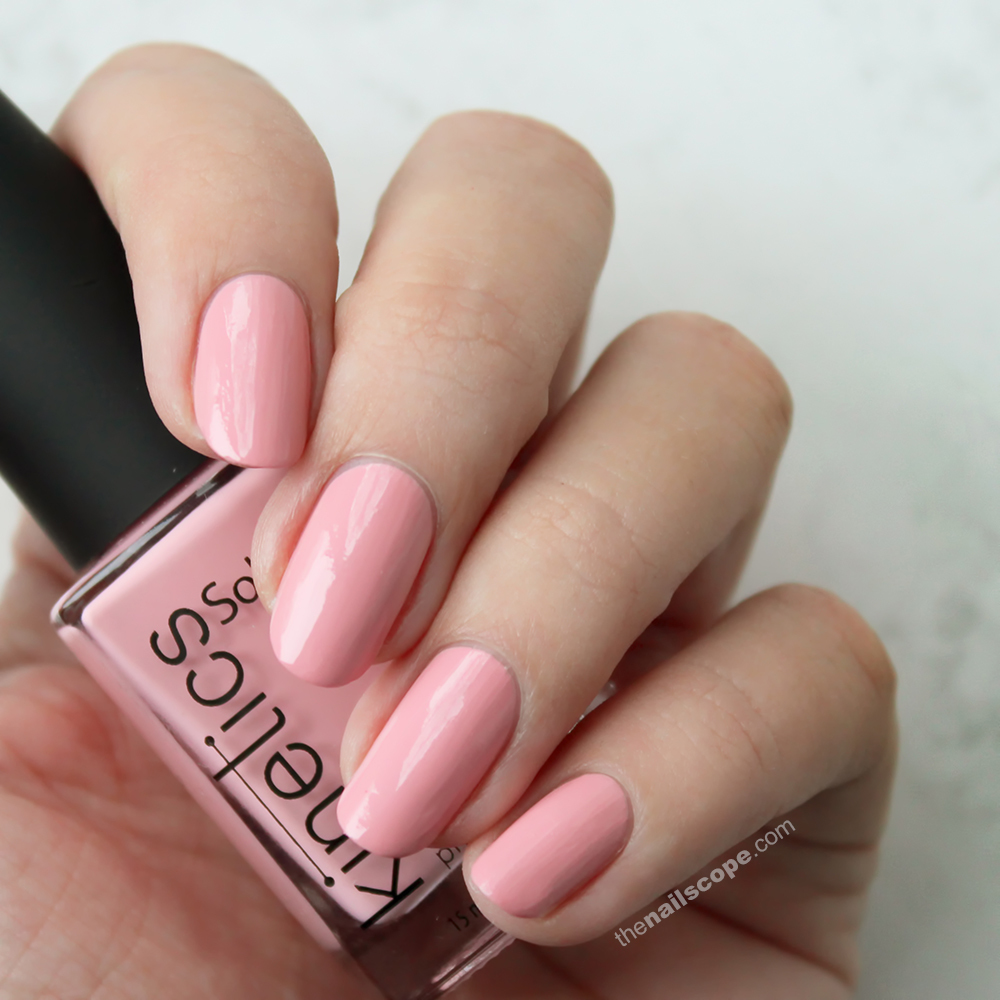 Pure Instinct – warm pastel pink. Brighter than Skin To Skin. Great coverage – 2 layers here.
Pure Instinct – silts pasteļu rozā. Krietni košāks kā Skin To Skin. Lieliska segtspēja – klāts 2 kārtās.
Nude Different – medium nude. The main colour of the collection that will look great with pale skin. The tone is a little bit dusty and more cold than warm. And it is almost one coater! Did 2 coats for swatches but you can easily get along one.
Nude Different – vidēji tumšs, bēšīgs nude tonis. Kolekcijas titulkrāsa, kas pārsteidzoši labi izskatīsies gaišas ādas īpašniecēm. Pieļauju, ka tas tāpēc, ka tonis ir viegli dūmakains un ir vairāk vēss nekā silts. Kā arī tas perfekti nosedz nagu 1 kārtā! Fotografējot gan izvēlējos to klāt 2 kārtās, bet ikdienā mierīgi var iztikt ar vienu.
Ivory Night – bluish grey. Colour that reminds me a rainy sky. For full coverage, you will need only 2 coats.
Ivory Night – vēsi zilgans pelēkais. Tonis, kas atgādina debesis lietainā dienā. Vienmērīgam klājumam būs nepieciešamas vien 2 kārtas.
Naked Truth – medium dusty purple. Excellent formula for this one – again almost 1 coater!
Naked Truth – vidējs dūmakaini violetais. Vēl viens tonis ar ideālu formulu!
Highly Unlikely – dark dusty red with very subtle shimmer. It is hard to capture shimmer in the pictures. But that kind of shimmer always gives a nice depth to the colour. Very feminine and artistry shade. Two coats here.
Highly Unlikely – tumšs pelēcīgi sarkanais ar vieglu mirdzumu. Tiesa gan bildēs smalkos mirdzumiņus man neizdevās noķert, bet tonim tie piešķir burvīgu dziļumu. Ļoti sievišķīgs un glezniecisks tonis. Lakots 2 kārtās.
So Much And More – dark brown red. Love that kind of dark colours which look almost black but still have their tone. It needs 2 coats to reach full opacity.
So Much And More – tumšs brūngani sarkanais. Ļoti patīk šāda veida tumšie toņi – tie izskatās gandrīz melni, bet tomēr nav. Divās kārtās nags ir ideāli nosegts, tonis izteikti pigmentēts.
Did you try any of these colours? Which are your favourites?!
Vai esat mēģinājušas kādus no šiem toņiem? Kuri ir Jūsu favorīti?